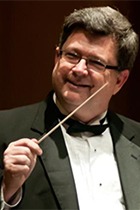 With a public school career spanning three decades, Stephen Pearce has worked at every level of public school music from Pre-Kindergarten general music to High School Instrumental programs.  Since 2008, Stephen has been working in the Elementary Music Division for the Baldwin County Board of Education in Alabama.  He is currently assigned to J. Larry Newton Elementary and Summerdale Elementary Schools.
Mr. Pearce is the Associate Conductor of the Pensacola Civic Band and the French Horn Section Leader.  He has been a member of the Pensacola Civic Band for almost 20 years.  Stephen is also an Adjunct Faculty Member in the Performing Arts Division of Pensacola State College serving as Applied French Horn Instructor, Rehearsal Accompanist, Vocal Coach, and Conductor of Musical Theater Productions.  He is a regular performer in other local and regional theaters, orchestras, and ensembles. In 2008-2009, the Pensacola Little Theatre presented Mr. Pearce with the Award for Sustained Excellence in Music Direction.  He has also been a church musician for many years, serving as organist and choir director.  Stephen is currently the organist/choir director at the Orange Beach Presbyterian Church in Orange Beach, Alabama.
Stephen is a graduate of Troy State University.  In 1981, he received a Bachelor of Music Education and in 1987 the Master of Music Education with a concentration in Conducting. He was also admitted to the degree of Educational Specialist in 2004 from the University of South Alabama and published a replication of the "Mozart Effect" studies in a report focused on the use of music to increase spatial-temporal reasoning.
Stephen is also a sports car enthusiast and serves on the Board of Directors for the Sonnenschein Region of the Porsche Club of America.  He competes regularly in driving events such as Autocross and Road Rally.  Stephen's favorite quote is, "The odometer measures smiles, not miles." He was honored to be a part of the Porsche Corral sponsored by the Porsche Club of America National Committee at the 2014 Rolex 24 Hours at Daytona International Speedway.
Stephen is married to Denise Lowry Pearce, a long-time member of the Pensacola Civic Band. Together they have four children, all students of music, theater and dance.