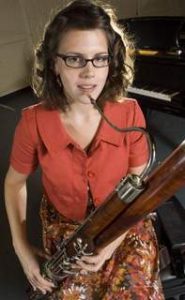 Abigail Walker graduated with her Master of Music Degree in bassoon performance in 2007 from The Shepherd's School of Music where she was a student of Benjamin Kamins.  She also holds a Bachelors of Music from Florida State University and an Associate of Arts from Pensacola State College.  She has performed with orchestras in Texas, Florida, Maryland, Indiana, Alabama, Nevada and California.  Abigail's most influential teachers include Ben Kamins, Jeff Keesecker, Larry Slezak, Ray Pizzi, Whitney Crocket and Richard Jernigan.
Mrs. Walker is Instructor of Music at Pensacola State College, instructor of Bassoon at the University of West Florida, and has an active private bassoon and piano studio.  Mrs. Walker has been an active substitute musician with the Alabama Symphony Orchestra in addition to being Co-Principal Bassoon with the Northwest Florida Symphony and the Pensacola Symphony Orchestras.
Mrs. Walker began her musical studies at the age of three, studying piano with her mother and later playing bassoon in her mother's home-school band.  She has had a life-long love of music and especially the artists that create and perform music.