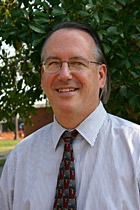 Don Snowden is Department Head of the Performing Arts Department, Director of Bands and Assistant Professor at Pensacola State College. As Pensacola State College Director of Bands, Mr. Snowden's jazz ensembles have performed with several world renowned artists and in 1993, the Pensacola State College Jazz Ensemble performed in famed Carnegie Hall in New York City.
Mr. Snowden is a two-time winner of the Arts Council of Northwest Florida's Muriel Shugart Award for his work at Pensacola State College and the Pensacola Civic Band, which received the Sudler Silver Scroll Award, presented by the John Philip Sousa Foundation. He is an active performer, holding the second trombone position in the Pensacola Symphony Orchestra since 1979 and is the leader of the Pensacola Big Band All Stars with Holly Shelton. He is a member of a professional brass group, Perdido Brass, and an active musical theatre conductor.
Mr. Snowden received a Bachelor of Music Education degree from Livingston University and a Master of Music Education degree from the University of Southern Mississippi.