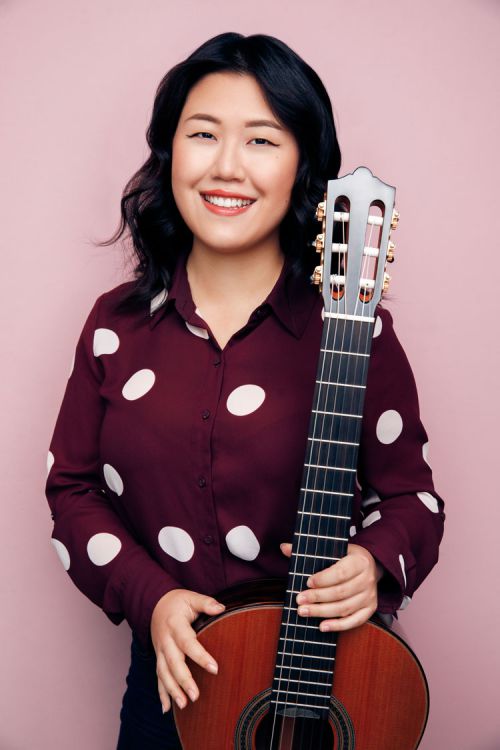 The 2021 Guitar Foundation of America's International Concert Artist Competition Grand Prize winner, Bokyung Byun, will bring her refined musicianship to Pensacola State College next month.
Presented by the College's Guitar Association, Byun's performance is set for 7:30 p.m. Saturday, Feb. 18, in Ashmore Fine Arts Auditorium, Building 8, on the Pensacola campus.
Admission is $11 for adults, $9 for senior citizens, and non-PSC students and $7 for PSC employees. The performance is free for current PSC students and Friends of the Performing Arts members. Tickets are available online at https://performingarts.pensacolastate.edu/upcoming-events/.
In addition to the concert, Byun will teach a free Master Class from 4-7 p.m. Friday, Feb. 17, in Room 850 of the PSC Ashmore Fine Arts Center. For reservations, email jstallings@pensacolastate.edu.
Byun also will be the guest adjudicator for the 2023 Pensacola State College Finger Style Acoustic Guitar Competition set for 10 a.m.-noon Saturday, Feb. 18, in Ashmore Auditorium. There is no application fee to participate in the competition, but participants must be 18 years old or younger on the day of the competition.
Applications must be received by Friday, Feb. 10. The competition is closed to the public. The top three prizes will be announced during intermission at Byun's concert.
For more information  on competition rules, and to complete an online application, go to https://www.pensacolastate.edu/guitar-competition. Competition sponsors are Hill Guitar Company, Blues Angel Music and Minds on Music.
Byun has the reputation as one of the most sought-after musicians  of her generation. She was the first female winner of the prestigious JoAnn Falletta International Guitar Concerto Competition, where Falletta herself described Byun's performance as "stunning, showcasing her gorgeous tone, immaculate technique, and sophisticated musicianship."
This win is among many where Byun excelled in the competitive circuit including the Guitar Foundation of America International Concert Artist Competition ─ considered the most prestigious guitar competition in the world.
Born in Seoul, South Korea, Byun began playing guitar at age 7. As an 11-year-old, she took the stage for her first solo recital ─ leading to an early start in her teen years performing numerous concert tours around Korea, to enthusiastic response, including millions of views on YouTube.
As a teen, Byun gained national attention for first-prize finishes in three renowned competitions ─ the Korea Guitar Association, the Music Association of Korea, and the Guitar Foundation of America International Youth Competition.
Byun moved to the United States, where she briefly studied in Los Angeles before moving to New York City to enroll in The Juilliard School at age 16. She holds Bachelor of Music and Master of Music degrees from The Juilliard School and a Doctor of Musical Arts degree from the University of Southern California.
She said she is  grateful to the masterful instruction of her pedagogues, who include Scott Tennant, William Kanengiser, Chen Zhi, Tae-soo Kim and Sharon Isbin.
In 2020, Byun co-founded Guitarlab, an innovative online learning platform that offers cutting-edge classes designed for young professionals around the world.
Byun is currently on the guitar faculty of California State University Fullerton. She is sponsored by Augustine Strings and plays a guitar by Dieter Mueller (2019). Visit www.bokyungbyun.com to learn more.
For more information on the concert, contact the Pensacola State College Performing Arts Department at 484-1847.