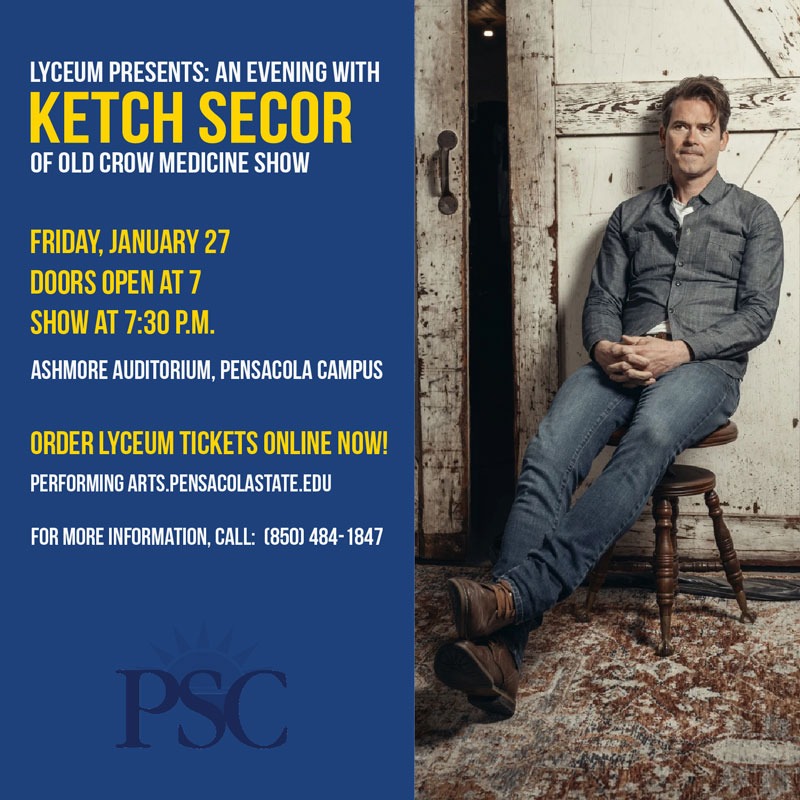 If you've heard the song "Wagon Wheel" – and we know you have – you can credit iconic songwriter Bob Dylan and Ketch Secor of the Grammy-winning band, Old Crow Medicine Show.
Who knows? Maybe Secor will even play the once-ubiquitous earworm when he performs on Friday, Jan. 27, in Pensacola State College's Ashmore Auditorium, Building 8, on the Pensacola campus.
The performance is set for 7:30 p.m. and tickets are on sale at performingarts.pensacolastate.edu/upcoming-events. Doors open at 7 p.m.
Secor's solo performance is only one of the highlights of the Spring 2023 Lyceum Series ─ the College's long-running performing and visual arts series.
Other Lyceum Series performances will include the vibrant New Orleans' band Cha Wa set for Wednesday, Feb. 15. Cha Wa has been twice nominated (2018, 2021) for a Grammy in the Best Regional Roots Album category.
"Ketch coming here is nothing short of spectacular,'' said PSC history instructor Andrew Barbero, the Lyceum Series coordinator. "He has won several Grammys and is a member of the Grand Ole Opry. He is doing a one night only special performance just for us. It is sure to be a once-in-a-lifetime kind of show."
Old Crow Medicine Show, fronted by Secor, is one of the most acclaimed and popular Americana/roots bands in the country. The band was inducted into the Grand Ole Opry in 2013. In 2015, Old Crow Medicine Show's album, "Remedy," won the Grammy Award for Best Folk Album.
The band's most popular song, "Wagon Wheel," traces back to 1973 when Dylan wrote the chorus and melody for the song, which was never officially released though it would appear in later bootlegs with the title, "Rock Me Mama."
Decades later, Secor would write the verses to the song, giving its final form. It has been recorded by numerous artists, including Darius Rucker who scored a No. 1 country hit with his cover.
Still, there is more to be excited about, Barbero said of the upcoming Lyceum Series events.
"Cha Wa is going to rock the Ashmore Auditorium,'' he said of the brass band. "These guys embody this much larger history that connects Native American and African American culture back to the 17th century. They are also amazing showmen who incorporate Native American motifs within contemporary New Orleans street culture."
Other Spring 2023 Lyceum Series performances include:
Monday, Feb. 13: Marta Szlubowska, concert violinist, Ashmore Auditorium
Monday, March 6: Fruition with Anthony Da Costa, roots band, Ashmore Auditorium
Thursday, April 13: C.A. Conrad, poet, Hagler Auditorium
Wednesday, April 19: Motel Radio, indie band, Ashmore Auditorium
Thursday, April 20: Kahlo String Quartet, classical music, Ashmore Auditorium.
Tickets are $11 for adults, $9 for senior citizens and non-PSC students, $7 for PSC employees, and free for PSC students and Friends of Performing Arts.
For a complete Lyceum schedule and other details, visit https://lyceum.pensacolastate.edu/.