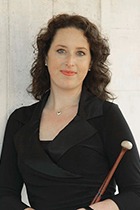 Laura Noah is a freelance Timpanist/Percussionist residing in Mobile, Alabama.  Mrs. Noah is the principal timpanist for the Mobile Symphony and the Meridian Symphony. She is principal percussionist for the Gulf Coast Symphony in Biloxi, Mississippi and section percussionist with the Pensacola Symphony.
In addition to her performing career, Laura also teaches introduction to music at the University of South Alabama and applied percussion at Pensacola State College.  Mrs. Noah is the front ensemble instructor for Southwind Drum and Bugle Corps. For the past decade, she has instructed front ensembles for several Alabama high school and collegiate bands including McGIll-Toolen Catholic High School, Hoover High School, Oak Mountain High School and the University of Alabama at Birmingham. Laura was a member of 1996-97 Southwind and the 1999 DCI Champion Santa Clara Vanguard.
Laura received her MM degree from The Peabody Institute of the Johns Hopkins University studying with Jonathan Haas, and her BM from the University of Alabama.   She attended the Aspen Music Festival and School in 2000.
Mrs. Noah is a member of the Percussive Arts Society and is an endorser of Innovative Percussion products.