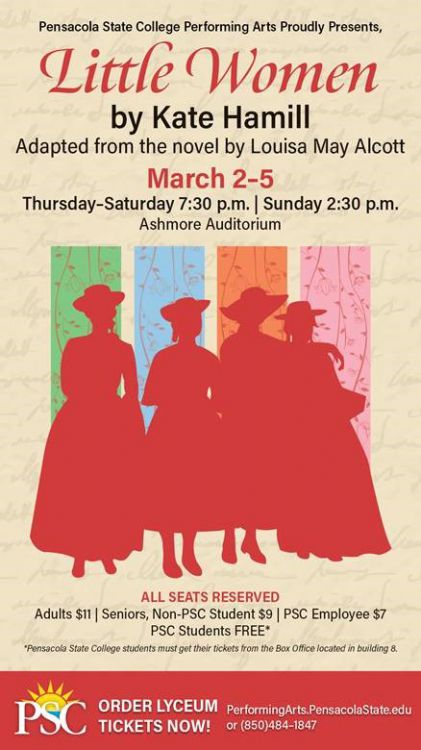 Pensacola State College Performing Arts Department is bringing the beloved classic "Little Women" to the Ashmore Auditorium this week, with performances running Thursday through Sunday.
It's playwright Kate Hamill's retelling of Louisa May Alcott's Civil War era landmark novel, "Little Women," published in two parts in the 1860s.
Yet the war between two of the four March sisters – Jo and Amy – is focused here.
"It seems to focus on the Civil War motif in looking at the Jo and Amy conflict,'' said PSC Theater Director Rodney Whatley, who directs the production. "And there's focus on the emotional sacrifice made when their sister Beth dies."
Hamill's update also emphasizes the gender roles Alcott challenged in "Little Women."
"There's an emphasis on the romantic leads and gender roles," Whatley said. "Jo is much more focused on gender roles and wears a fake mustache a few times and wears men's clothes in all but a few scenes. Laurie (Theodore "Laurie" Lawrence) states his desire to be more in touch with his feminine side and says in the script I wish I was a girl instead of a boy. There's this conflict within themselves regarding how they see themselves versus what society demands. There's gender conflict and conflict between the sisters. It's very dramatic."
The PSC production features Jolene Cintron in the key role of "Jo." Cintron was a four-year drama student at Escambia High School – she graduated in 2022. This is her first collegiate role and first leading role.
It also will be her last. The 18-year-old has enlisted in the U.S. Army and reports for duty when the semester ends.
"There's no theater in the Army,'' she said. "I'm absorbing every second and every performance. It's just been a great experience."
Cintron said she has enjoyed her short time at PSC.
"I really do love it,'' she said. "Everyone is so friendly and relatable. Everyone has great ideas and is so open."
Still, she said she was inspired by her grandfather, an Army veteran, to seek out more.
"I'm glad I've had the opportunity, but I want to do something important and see the world. I know it will improve me, and that's something I really want to strive for."
She said she hopes to continue her education online at some point during her Army career.
Cast members are:
Marmee – Larkin Kelly
Aunt March – Sylvia Hernandez Switzer
Meg – Marielys Diane
Jo – Jolene Cintron
Beth – Marie Jansen
Amy – Harley Furlong
Hannah – Danielle Tylee
Mrs. Mingott/Messenger – Kira Benton
Laurie – Hunter Brumfield
Brooks – Owen Raley
Parrot – Jac Campo
Robert March – Tabari Daniels-Butler
Mr. Laurence/Mr. Dashwood/Doctor – Daelan Moreland
If you go
Ticket are:
Adults: $11
Seniors and Non-PSC Students: $9
PSC Employees: $7
Free for PSC Students and Friends of the Performing Arts members
Showtimes:
7:30 p.m. Thursday, March 2, through Saturday, March 5
Matinee performance at 2:30 p.m. Sunday, March 5.