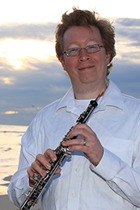 A native of Upstate New York, Matthew Fossa has been the Principal Oboist of the Pensacola Symphony Orchestra since 2002. In addition, he holds the same position with the Northwest Florida Symphony Orchestra and also performs with the Mobile Symphony Orchestra. He has also performed as Guest Principal Oboist of the Richmond (VA) Symphony Orchestra, Co-Principal Oboist of the Gulf Coast Symphony Orchestra, and been a regular member of the oboe sections of the Orchestra of Northern New York and the Albany (GA) Symphony. Over the years, Mr. Fossa has given many solo and chamber music recitals in west Florida and southern Alabama. He has also had several solo appearances with various regional orchestras and bands including the Pensacola Symphony Orchestra, the UWF "Runge Strings" Chamber Orchestra, and the Pensacola Civic Band.
In addition to this, he serves as an instructor of oboe on the faculties of Pensacola State College, Northwest Florida State College, and the University of West Florida. In addition, he maintains a large private studio of middle and high school students. Students of Mr. Fossa have gone on to study at prestigious institutions such as the Interlochen Arts Academy, the Florida State University College of Music, the University of South Florida, and the Manhattan School of Music.
Besides being an active performer and teacher, Mr. Fossa is also a prolific composer, having written works ranging from solo instrument pieces to compositions for full band and orchestra. His self-published music has been performed in various venues across the United States and is now being distributed by local and national music retailers.
Mr. Fossa received his Bachelor's Degree in Music Performance and the Performer's Certificate from the Crane School of Music in May of 1998. He was awarded his Master's Degree in Oboe Performance at the Florida State University in December of 2000. His teachers were Gene-Marie Green, Glenn Guiles, and Eric Ohlsson.